Charles and William Gooey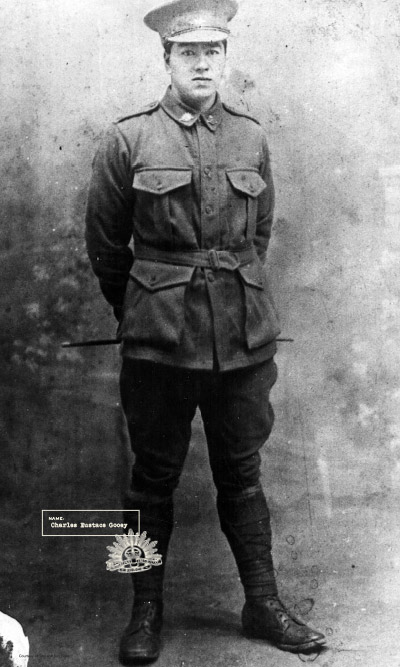 Charles Gooey (1892-1972) and William Gooey (1894-1940) were born in the agricultural district of Lyal to gardener Henry Ah Gooey and his wife Emily (nee Heffer). Both went to school at Lyal with James Ah Fooke, another person of Chinese descent who later served in the First World War. Like the members of the Fooke family, the younger Gooeys too were drawn to the nearby city of Bendigo to find work. It was here that younger brother William (Bill) first attempted to enlist on 11 September 1914, a little more than a month after the British Empire had declared war on Germany. His application was not successful, though there is no explanation written on his form as to why: his details are simply crossed out. Gooey's height and other measurements seem have met the minimal requirements (the doctor signed the form declaring him fit for active service), so one wonders if his racial heritage was a significant factor in his rejection. In June 1916 Gooey again attempted to enlist in Melbourne (but giving his address as 355 Barnard Street, Bendigo), and this time was successful. William Gooey became a private in the 13th Light Horse Regiment, with which he served in France until his transfer in November 1917 to the 104th Battery of the 4th Field Artillery Brigade as first a trooper, and then a gunner. He was appointed a driver on 3 January 1918, and after a period of illness was transferred to the Australian General Base Depot in June. After that Gooey served in the 2nd Divisional Ammunition Column from late June until September, when he returned to the 4th Field Artillery Brigade, in which he served out the rest of the war as a driver. Bill's war experiences did later affect his well being and he passed away in 1940 aged 46.
Older brother Charles had a somewhat different war experience. He enlisted in August 1915 and having passed the racial test (a note on the enlistment form declared him "substantially European") was assigned to the 5th Battalion A.I.F. However he was discharged "for family reasons" on 6 January 1916, and re-enlisted on 10 January for "Home Service". According to family stories he was a cook at the Broadmeadows training camp – his daughter still remembers his skill at Chinese style cooking using home grown produce. After the war Charles and his wife Sybil eventually made a home for themselves in Redesdale, where Charles owned and operated his own timber mill. Charles and Sybil also changed their family name to the more anglicised Govey and never spoke of the family's Chinese origins to their children and grandchildren, which is believed by their descendants to be a possible reaction to the racism that Charlie and Bill had experienced growing up. Although Charlie's army service was relatively uneventful he unfortunately did not entirely escape the tragedy of war – his two sons, serving in New Guinea during World War II, were killed in the same year.
Charles Eustace Gooey / Govey passed away in 1972 at Castlemaine on his 80th birthday.
查尔斯Charles Gooey (1892-1972)和威廉William Gooey (1894-1940)兄弟出生在Lyal农业区。他们上学期间与James Fooke在一起,James是中国后裔,后来在一战中服役。长大后兄弟俩跟随Fooke到附近的Bendigo找工作。威廉于1914年9月11日第一次试图参军,这正是大英帝国对德国宣战的一个多月之后。尽管他的表格上没有说明原因,他的申请被拒。人们不禁推测到他的种族很可能就是导致他被拒的一个重要因素。1916年6月,威廉成功地在墨尔本应征入伍,成为第13轻马团的一名士兵在法国服役。1917年11月他被调往第四野战炮兵旅的第104炮台当装甲兵,后来升为炮手。1918年1月他被任命为驾驶员,同年6月被调往澳大利亚总基地仓库,6月下旬到9月服役于弹药纵队第二师,随后他回到第四野战炮兵旅,在那里作为一名驾驶员直至战争结束。威廉的战争经历确实影响了他的身体健康,他于1940年去世,享年46岁。
查尔斯有着不同的战争经历。
1915年8月他应征入伍被分配到了澳大利亚皇家军队第五营(征兵表称他"实质上是欧洲人")。然而,1916年1月6日因"家庭原因"被退伍,又于1月10日重新入伍承担部队家务。据家里人讲他曾在Broadmeadows训练营当过厨师,他的女儿仍然记得他用自产的农产品烹饪中餐。战后,查尔斯和他的妻子Sybil安家在Redesdale,在那里经营木材厂。他们把姓氏改成了更为英国化的Govey,也从不谈及家族的中国血统,他们的后代认为这是他们对经历过种族主义的一种反应。虽然查尔斯的兵役相对平静,但不幸的是,他并没有完全摆脱战争的悲剧。二战期间他的两个儿子在新几内亚服役,同年被杀害。
查尔斯1972年在Castlemaine逝世,享年80岁。

The Chinese ANZACs of the Loddon Mallee Region travelling exhibition is supported by the Victorian Government and the Victorian Veterans Council.