Charles Roy Todd (Lee Suey 李瑞)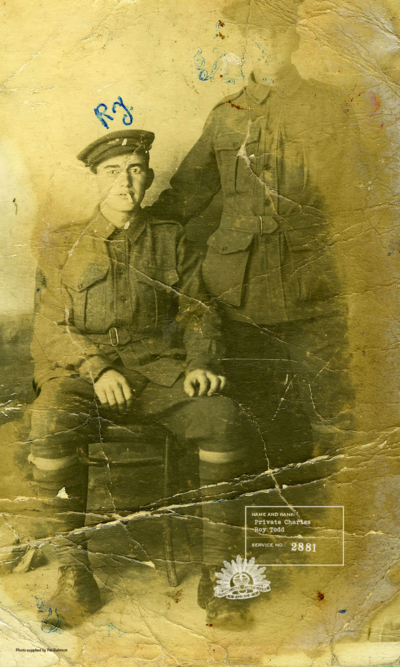 Charles Roy Todd was the eldest son of Castlemaine storekeeper and interpreter Charles Lee Suey (d.1912) and his wife Florence (nee Todd), and grandson of Castlemaine Chinese community leader James Lee Suey (李瑞). Born before his parents were married in 1901, Charles (or Roy, as he was known) was registered under his mother's name at birth, but after his parents' marriage Roy took his father's name Lee (or Le) Suey. Roy Lee Suey went to Castlemaine State School, which he left in 1912, thereafter working as a gardener at Campbell's Creek, where he had also begun playing for the local football team. After his father had passed away in 1912 the Lee Suey family relocated to Bendigo, but Roy seems to have remained in Castlemaine until his enlistment. In this same period his next eldest brother Reg was sent to China to live with relatives, and would not return until the late 1920s. Roy, born in 1899, was underage when he enlisted apparently without his mother's knowledge in 1915. He gave his next of kin instead as his aunt Emily Kimm of Castlemaine. He also enlisted under the name Charles Todd, and falsified his birthplace and date of birth. Todd left Australia with the 14th Battalion A.I.F., joining his unit at Ismailia, Egypt on 8 January 1916. On 3 March Todd joined with the newly formed 46th Battalion at Tel-el-Kabir, and within a week had been shipped to Marseilles. The 46th arrived at the Western Front in June 1916, and Charles was wounded twice two months later in August during action at Pozières. Suffering from a severe shrapnel wound in his left thigh, Todd was subsequently transferred to England, where he spent over five months recuperating at the Graylingwell War Hospital, Chichester. Subsequently he was rehospitalised in 1917 due to illness, and passed away on 17th July 1918 aged only 18 years.
李瑞生于1899年,是父亲Charles Lee Suey和母亲Florence Nee Todd的长子,他的祖父James Lee Suey是华人领袖。李瑞就读Castlemaine州立学校,1912年离开后在Campbell's Creek当园丁,同期加入了当地足球队。同年父亲去世后,李瑞一家搬到了本迪戈(Bendigo),但李瑞似乎一直留在Castlemaine直到他应征入伍。在此时期,他的大弟瑞格(Reg)被送到中国与亲戚一起生活,直到20世纪20年代末才返回。1915年李瑞还未及应征年龄,瞒着母亲他篡改了自己的出生地和出生日期,他还以Charles Todd的名字入伍从军。1916年1月8日李瑞随澳大利亚帝国军第14营离开国土,加入到埃及的伊斯梅利亚(Ismailia)部队。3月3日,李瑞加入新组建的第46营,一周后被送往马赛(Marseilles)。同年6月第46营抵达西部前线,李瑞在8月的波齐耶尔(Pozieres)战役中两次受战伤。由于左大腿被弹片严重击伤,李瑞随后被转移到英国,在奇切斯特(Chichester)的格雷格威尔(Graylingwell)战争医院休养了五个多月。之后,1917年李瑞因疾病再次住院,于1918年7月17日不幸去世,年仅18岁。

The Chinese ANZACs of the Loddon Mallee Region travelling exhibition is supported by the Victorian Government and the Victorian Veterans Council.