George Vincent Lee Kim MM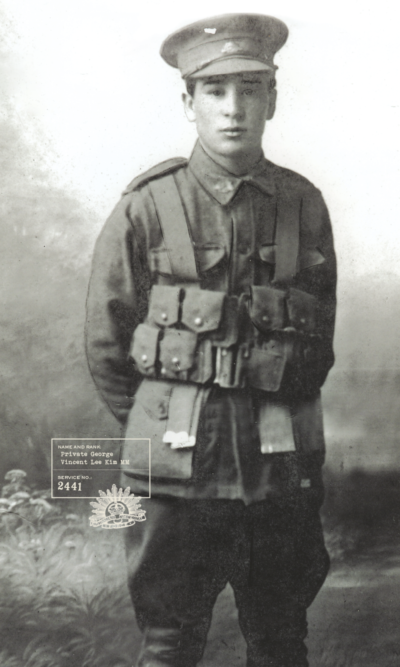 A son of Hong Kong born immigrant William Lee Kim (李錦興) and his wife Ellen Plowright, George Vincent Lee Kim was born at Grassy Flat, where his father had a market garden, on 12 January 1897. A year later he was baptized into the Church of England by Rev. R. C. M. Kelly at the mission church at the Ironbark Chinese village.
As a teenager Lee Kim joined the army cadets, and by 1914 he was a corporal in the 67th Infantry Regiment in Australia's part-time pre-war military. George enlisted for active service, with the legal consent of his father, at the age of 19 in July 1916, two months later embarking for England on the troop ship HMAT Shropshire as a private in the 60th Battalion AIF, the unit with which he was to remain throughout the course of the war. Lee Kim arrived in France early in the new year of 1917, and by year's end had been promoted to corporal after almost 12 months of service in the field. A small glimpse of the horrors that he must have witnessed during the conflict was conveyed in a letter to his mother which was quoted in the Bendigo Advertiser: 'A bursting shell from the German guns killed Private J. Forrest and another Australian, while Lieutenant Power, formerly of the Bendigo camp, was seriously wounded by fragments of the shell. Private Forrest was killed instantly, and was buried in a military cemetery in France by his old pals. He was one of the best, and was very popular with his comrades.' The Roll of Honour circular for John Forrest states that he was killed in action on 17 March 1917 at Bullecourt, France.
In the final months of the war his bravery in the field resulted in Lee Kim being awarded the Military Medal. His citation reads: 'For conspicuous gallantry and devotion to duty during operation on 30th August – 5th September 1918. On 2nd September 1918 near PERONNE when his platoon officer was rendered a casualty, this N.C.O. took charge of the platoon and although badly shaken he set a splendid example by his initiative and bearing in leading the platoon forward to its new position.'
When George Lee Kim settled back into civilian life he resumed work at his father's Grassy Flat market garden, the ownership of which he took over in the mid-1920s. He married Gerte Powell in 1920. Lee Kim was also involved with the Chinese procession in the Bendigo Easter Fair, escorting the dragon Loong over many decades.
乔治(George Vincent Lee Kim) 1897年1月12日出生在Grassy Flat,从香港移民来的父亲李锦兴在那里拥有一个集市花园。母亲叫Ellen Plowright。一岁时乔治在Ironbark中国村的教会接受了牧师的洗礼。乔治十几岁时加入了军校,1914年在澳大利亚临时战前军队第67步兵团当下士。1916年7月,19岁的乔治在父亲的合法同意下应征服役。两个月后加入到他其后一直归属的帝国部队第60营,踏上了前往英国的舰船。1917年初他来到法国,年底时被提升为下士。Bendigo Advertiser报纸曾引用了他给母亲的一封信,信中不难看出他在战场中亲眼目睹的恐怖场景。 信中道:"德国大炮的炮弹当场炸死了一名士兵Private J. Forrest,另一名曾在Bendigo 营地服役的中尉Power当时也被炮弹碎片严重炸伤。John Private的老战友将他埋葬在了法国的军事公墓,他生前是个很好的人,深受同志们的欢迎。"John Forrest的荣誉名单上写着,1917年3月17日,他在法国Bullecourt阵亡。
乔治在战争最后几个月里英勇奋战,荣获得了军事奖章。军事公报中这样褒奖他:"自1918年8月30日至9月5日期间,他在 执行任务时表现出了非凡的英勇和献身的精神。1918年9月2日在PERONNE附近,当排长受伤时,惊魂未定的他勇敢地率领了这个排继续前进,作为一个未得到授权的军人,他如此勇于担当的大无畏表现为军人树立了一个出色的榜样。"乔治重返平民百姓生活后,又在父亲Grassy Flat的集市花园继续工作。1920年与Gerte Powell结婚。
此外,乔治积极参与Bendigo复活节的中国舞龙游行长达数十年之久。

The Chinese ANZACs of the Loddon Mallee Region travelling exhibition is supported by the Victorian Government and the Victorian Veterans Council.