From 20 August 2022 – 19 February 2023, two stunning exhibitions will show some very differing aspects of Chinese art and culture.
Treasures of Dai Gum San: Chinese artistry from the Golden Dragon Museum and In Our Time: Four decades of art from China and beyond – the Geoff Raby Collection will feature masterworks from China but from very different times.  Whilst the Golden Dragon Museum is acclaimed for its Collection of over 30,000 objects which the Museum exhibits within a social history context in this exhibition at the Bendigo Art Gallery the works are looked at as fine works of art, displaying outstanding skills that have created exquisite pieces.  The Geoff Raby Collection, recently donated to La Trobe University, shows artworks that are far more contemporary.  The two exhibitions show very different views of art and culture across time but from the one place.
A wonderful program of talks, workshops and performances is being organised across the time the exhibitions will be showing so be certain to visit here regularly for updates as they become available.
For more information on the program at the Bendigo Art Gallery click here:
https://www.bendigoregion.com.au/bendigo-art-gallery/bag-events
For more information on the program at the La Trobe Art Institute click here:
What's on, La Trobe Art Institute, La Trobe University
Tripod shaped censer, Qing dynasty, 19th century, enamel, brass; with gilt metal handles and feet. Golden Dragon Museum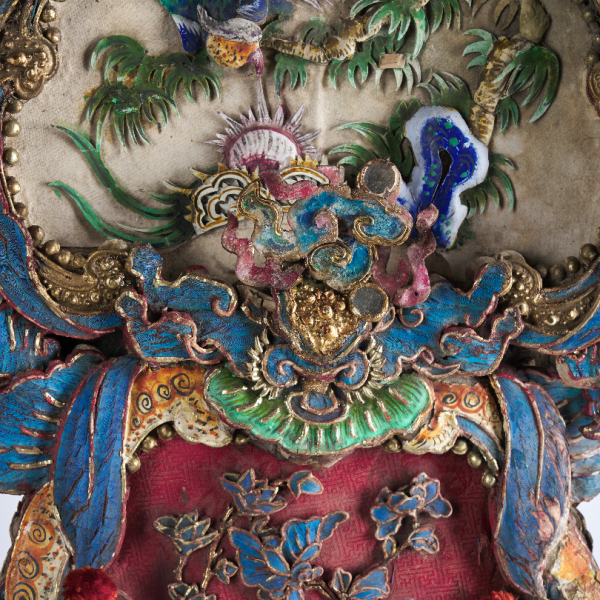 Fan banner (detail), Qing dynasty, late 19th century, Kingfisher feathers, silk, paper, wood, hand-cut mirrors. Bendigo Chinese Association Collection, Golden Dragon Museum